Attendees at the first eMetrics Summit acted like they had just encountered a mirror for the first time.
They saw their same excitement shining back at them in the eyes of every person they met and it electrified the room.
Before the eMetrics Summit, they had individually discovered a unique dataset that offered new ways to increase revenue, lower costs and increase customer satisfaction. Separately, they had spent months trying to convince their organizations to appreciate the potential of web data, search data, email data… digital data.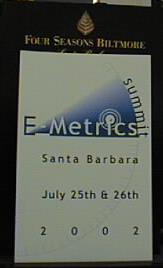 They did their best to describe where the data came from, how it could be combined and mined for clues about the marketplace and customers' desires. But telling this story was laborious and it proved difficult to kindle excitement in others.
When these enthusiasts came together at the eMetrics Summit in June, 2002, they discovered they didn't have to have a two hour introduction-to-web-data conversation with anybody.
They could jump right to the exhilarating, higher-level discussions about Where This Might Lead and What the Future Might Look Like and What If We Could Capture This Other Data Too?! They realized they were the people who would be inventing that future. Their ideas, conceived over lunch and in the lobby bar would end up as features in new products being built by this guy sipping his cocktail and that woman quietly taking notes.
They found a home.
They found their people.
They found a subject matter that was as rich, interesting and unexplored as the Internet itself had been in the early 1990's, when every conversation sparked new business models and alternative futures.
They became friends, colleagues, mentors, collaborators, co-presenters, company co-founders and a community. They met at the eMetrics Summit and said, "We want more!" So they met at Web Analytics Wednesdays and said, "We want more!" So they started the Digital Analytics Association.

I spent last week at the eMetrics Summit in Toronto. Every conversation included one person excited about meeting their intellectual equal and thrilled to be learning something new, and one person who was excited about meeting their intellectual equal and thrilled to be offering advice and encouragement.
This gathering of digital analysts had cheerleaders (like yours truly), celebrities (Justin Cutroni ) wise guys (Chris Brogan from Hyatt Hotels is seriously funny), deep thinkers (Jim Novo), professional recruiters (Jennifer Van Amerom), professorial philosophers (Matt Gershoff), actual professors (Dr. Murat Kristal), faster-than-lighting minds (Christopher Berry), gadget fanatics (Benjamin Mangold), materteral mentors (Kelly Kubrick), adult supervision (Mike Levin), seasoned professionals (Mark Dykeman), maturity mavens (Stéphane Hamel), bright young things (Charlene Dipaola & Shingai Manjengwa), community managers (June Li) and a roomful of gleaming-eyed enthusiasts who like nothing better than finding new ways to pull insights from a constantly reconfiguring data set.
I love these people.
I love this community.
I always see myself in their eyes.